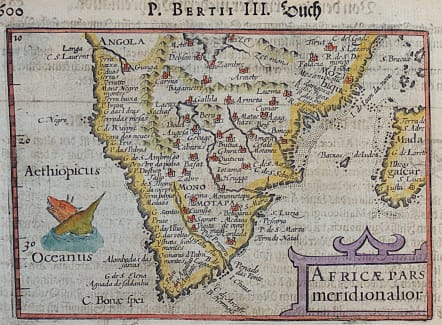 AFRICAE PARS MERIDIONALIOR...
£160
Good early map of southern Africa by Langenes Bartents but issued by Bertius in 1612.
**This map is the scarce 1612 edition from Petri Bertii 'Geographischer Eyn Oder Zusammengezogener Tabeln" published by Hendrick Laurentssz in Frankfurt with text translated by Peter Uffenbach.
Many place names , many fictious.
Cartouche ..Sea monster.
Excellent hand colour
Very good condition for this rare printing
Cartographer : Petrus BERTIUS
Petrus BERTIUS
The origins of the miniature pocket atlas lie in Barent Langenes Caert Thresoor of 1598. A large number of the 169 maps were engraved by Petrus Kaerius (Van Den Keere). This small but attractive atlas was sold for the first time in 1599 by Cornelis Claesz in Amsterdam. In 1600, Claesz published the atlas with a Latin text composed by Petrus Bertius; from then on, new editions, often enlarged with new maps, regularly appeared. Petrus Bertius was born at Beveren, Flanders, in November 1565. As a refugee, Bertius settled in Amsterdam and, after finishing his studies, he became a professor of mathematics and librarian at the University of Leiden. In 1618 he also became cosmographer and historiographer to Louis XIII of France, and lived in Paris, where he died in October 1629. His fame among geographers was established by his text in the pocket atlas Tabularum Geographicarum.
subscribe to our newsletter