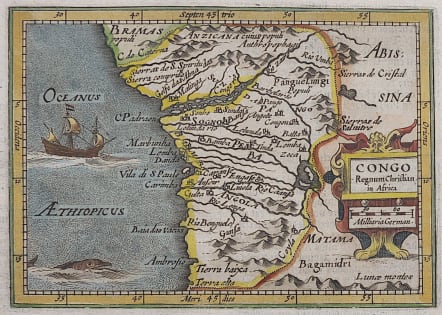 CONGO REGNUM CHRISTIAN IN AFRICA
£135
Rare and attractive map set in a page of text. Map illustrates the western seashores of Central Africa, surrounded by text in Dutch.Although engraved by Bertius originally this was probably reengraved for the rare book : Wereld Spiegel, waer in vertoontword de Beschryvinge der Rijken Staten, ende vorstendommen des gantsen Aerdbodems, by
Nicolaes de Clerck (de Klerc) who was active as engraver and publisher in Delft from 1599-1621.
The map was engraved by Jodocus Hondius before 1616 and first published in Petrus Bertius' revised pocket atlas Tabularum Geographicarum Contractarum Libri septem.. edition of 1616.
According to Peter van der Krogt in Atlantes Neerlandici, volume IIIA, page 442, the plates were used to illustrate some other books with maps, such as Paullus Merula's Cosmographia Generalis, printed in Leiden by Isaac Elsevier and in 1621 for the Wereld Spiegel.Cloppenburch probably had borrowed the plates, since in the 1630s they were in the possession of Willem Jansz. Blaeu, who probably acquired them along with the plates for Jodocus Hondius Jr.'s Appendix. Blaeu used the plates again for the Merula edition of 1635/36. Joan Blaeu used these plates to produce an Atlas Minor without text.
Excellent hand colour
Very good condition
RARE.
Cartographer : Petrus BERTIUS
Petrus BERTIUS
The origins of the miniature pocket atlas lie in Barent Langenes Caert Thresoor of 1598. A large number of the 169 maps were engraved by Petrus Kaerius (Van Den Keere). This small but attractive atlas was sold for the first time in 1599 by Cornelis Claesz in Amsterdam. In 1600, Claesz published the atlas with a Latin text composed by Petrus Bertius; from then on, new editions, often enlarged with new maps, regularly appeared. Petrus Bertius was born at Beveren, Flanders, in November 1565. As a refugee, Bertius settled in Amsterdam and, after finishing his studies, he became a professor of mathematics and librarian at the University of Leiden. In 1618 he also became cosmographer and historiographer to Louis XIII of France, and lived in Paris, where he died in October 1629. His fame among geographers was established by his text in the pocket atlas Tabularum Geographicarum.
subscribe to our newsletter