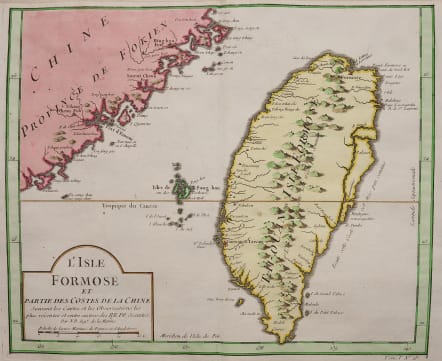 L'ISLE FORMOSE
£385
This classic sought after map of Taiwan is prepared by Jacques Nicolas Bellin and was based on Jesuit information. The text along the island's east-coast claims: Of this coast little is known .
The map is also showing part of the coast of China and the Island of Magong. The map marks the ruines of Fort Zeelandia as well as the fort at Keelung. The east coast still has the river that separates a section of the land from the island proper.
Down in the Anping area we find the words Taiouan or Taivan. Through the island is called Formosa, this is the first time we see the word Taiwan Tai-ouan on a map.
Very good hand colour
Excellent condition
Publication "Histoire Générale des Voyages, ou nouvelle collection de toutes les relations de voyages par mer et par terre", à Paris, Chez Didot, avec Approbation et Privilege du Roi 1748
Cartographer : Jacques-Nicolas BELLIN
Jacques-Nicolas Bellin (1703-1772) was one of the most important and prolific French cartographers of the mid-eighteenth century, in the service of the French Hydrographical Office. He was appointed the first Ingenieur Hydrographe de la Marine, and also Official Hydrographer to the French King.
Bellin was responsible for an enormous output of charts and maps. In a large folio format, he issued a volume of sea-charts of France, the Neptune Francois, and several sea-atlases of the World, including the Atlas Maritime and the Hydrographie Francaise. These large charts were amongst the best of the period and continued being reissued throughout the second half of the eighteenth century.
In smaller format, he issued the Petit Atlas Maritime (1764),which contained 580 detailed charts, as well as maps to illustrate l'Abbe Prevost's Histoire Generale des Voyages (1746-1757). Bellin also produced a substantial number of important separately issued maps, particularly reflecting continuing discoveries and political events in the Americas.
subscribe to our newsletter