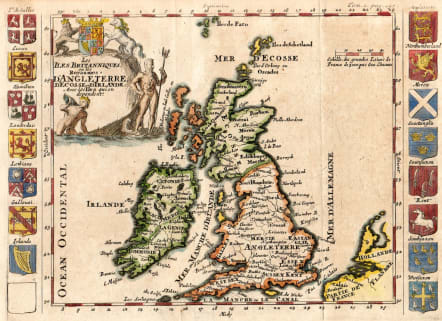 LES ISLES BRITANNIQUES OU LES ROYAUMES D'ANGLETERRE, ECOSSE...
£125
Scarce map of Europe by De La Croix from Universal Geographie.
Extremely decorative with emblems of Scotland, Ireland, Wales, Mercia, Southsaxon, Kent etc.. . DE Fer borrowed alot of geography from La Croix.
Decorative cartouche
Very good condition
Antoine Pherotee De La Croix (1640 - 1715) was a French philosopher and cartographer. He produced a number of philosophical and Geographical works during the early 18th century and became 'Geographer du Roy' to the French King.
subscribe to our newsletter