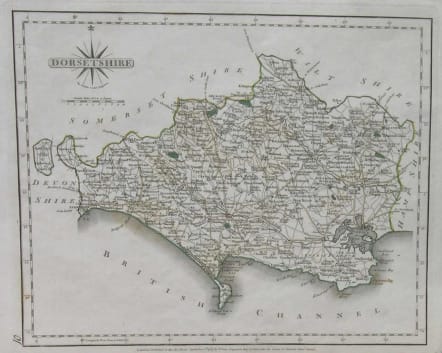 DORSETSHIRE
£45
From the New and Correct English Atlas by John CARY (c.1755-1835). He combined his cartographic knowledge with the skills of the engraver and also published on his own account.This map is from the first edition of Cary's atlas.
Original hand colour.V.good condition.
Ref: British Map Engravers, Worms & B-Williams P.130
John Cary (1755-1835) was a renowned and active map engraver and publisher, working between 1787 and 1834 in London. Cary's publications did much to advance the quality and clarity of data presentation on maps. His county maps for Richard Gough's edition of Camden's Britannia in 1789 evidenced much improved hachuring (shading to show land relief and physical features) when compared with earlier examples – Cary's hachuring was much less overbearing than that used by other mapmakers at this time and did not obscure map data.
subscribe to our newsletter