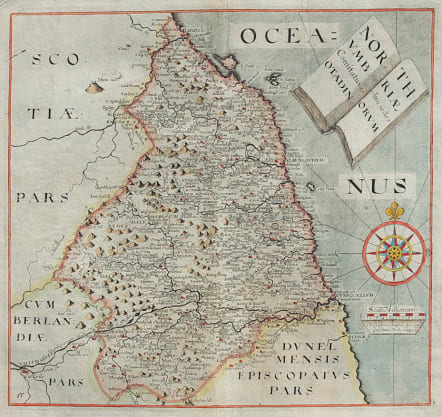 NORTHUMBRIAE COMITATUS
Sold
This handsome chart of Northumbria identifies Newcastle, Barwick, Glinda and hundreds of smaller towns and villages. Hadrian's Wall, here called The wall of the piets, is boldly engraved and well shown. The title is contained in an interesting cartouche fashioned to resemble an open book. The map is embellished with a large compass rose with fleur-de-lys and rhumb lines, and a distance scale with the imprint of Saxton and Hole below. As is normally seen on this map, there is evidence of a damaged plate with top left tip lacking neat lines.
The map image is fine with strong, dark impression, fine color and wide margins.
Very good condition.
Publication: Camden's Britannia
Cartographer : Hole William
subscribe to our newsletter