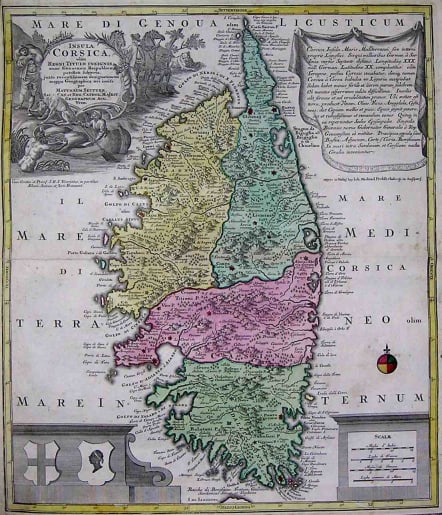 CORSICA INSULA CORSICA
Sold
Full Title: Insula Corsica olim Regni Titulo Insignis nunc Genuensis Reipublicae potestati subjecta, juxta recentissimam designationem mappa Geographica aeri incisa per Matthaeum Seutter, Sac. Caes. et Reg. ..
Published by Michael Probst
Seutter's spectacular Corsica map with many place names and topographical details and old wash color. The island is surrounded by coats of arms and a mileage scale on the bottom corners, and by a magnificent title cartouche on the upper left corner, showing people and products of the islands, and a text block on the upper right, describing the island's location, geography, products, government, etc.
Excellent condition
Cartographer : SEUTTER Family
Besides the Homanns, the other great German publishers of the eighteenth century were the Seutter family. Mattheus Seutter the elder (1678-1757) was apprenticed to Johann Baptist Homann in 1697 in Nuremberg, but left to settle in Augsburg where he established his own business publishing atlases, including the "Atlas Geographicus" (1725) and "Grosser Atlas" (circa 1735). Seutter's style was heavily influenced by Homann, with distinctive similarities appearing in his maps. He was joined in the business by his son, Albrecht (1722-1762), who continued the firm in partnership with Tobias Conrad Lotter (1717-1777) on his father's death.
subscribe to our newsletter