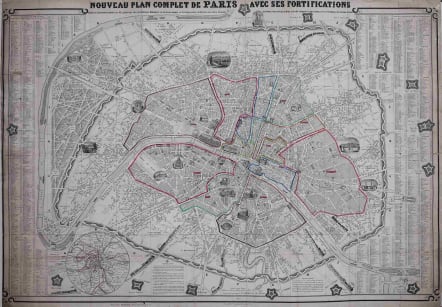 NOUVELLE PLAN COMPLET DE PARIS AVEC SES FORTIFICATIONS
Sold
Rare, attractive and detailed map of Paris and the pre Franco Prussian war fortification, printed earlier than BNF's example in 1848.
Wonderful little vignettes and even little steam trains with carriages.
Original outline colour.
Margins a little tatty and reinforced not affecting printed area and with no loss to map.
Good condition.
REF from BNF
Type : document cartographique, monographie
Titre(s) : Nouveau plan complet de Paris avec ses fortifications, divise en 12 Arrondissements et 48 Sections avec les principaux Monuments en Elevation donnant la Distance legale en Metres des Forts Detaches aux Murs d'Enceinte et aux Murs d'Octroi, indiquant la Population et les Fetes Patronales des Environs de Paris. Grave sur Acier par J. N. Henriot [Document cartographique]
Echelle(s) : Echelle de Mille metres [=Om. 055 ; 1:18 000 ]
Publication : Paris : A. Bes et F. Dubreuil, 1854
Description materielle : 1 flle avec traces en coul. ; 850 x 585
http://catalogue.bnf.fr/servlet/RechercheEquation;jsessionid=C76DBD108F685EBBB1DCBC2E25510991?TexteCollection=HGARSTUVWXYZ1DIECBMJNQLOKP&TexteTypeDoc=DESNFPIBTMCJOV&Equation=IDP%3Dcb40625545g&host=catalogue
subscribe to our newsletter