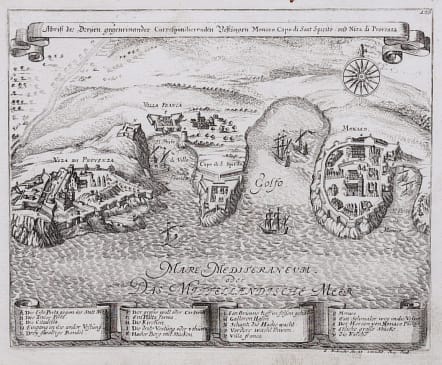 ABRISS DER DRYEN ...
Sold
Full title: Abriss der Dryen gegeneinander Correspondierenden Vestungen Monaco, Capo di Sant Spirito und Niza di Provenza.
Very attractive reduced version of Merians highly sought after Monaco to Nice map/view.
This is one of the earliest depictions of Monaco.
Copper engraving, uncolored as published. This fine engraving was published in Gabriel Bodenehr's famous serious 'Europeans Macht und Pracht', a series of engravings depicting city views.
Mint condition.
Cartographer : BODENEHR Gabriel
BODENEHR, Gabriel
1673-1765
German engraver and mapmaker of Augsburg. Son of Johann Georg Bodenehr [1631-1704] & from a family dynasty of engravers and publishers.
His works include Atlas Curieux [1704] and Curioser Staats und Kriegs Theatrum [1715].
In 1717 the family took over the Augsburg publishing house of Stridbeck. Succeeded by his son Gabriel the younger.
subscribe to our newsletter