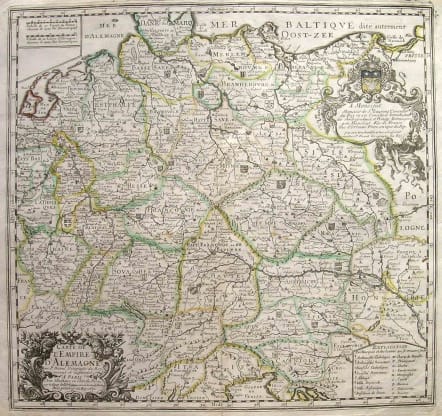 GERMANY CARTE DE L'EMPIRE D'ALLEMAGNE
£325
A map from the rare Atlas Cartes de Geographie by Pierre Du Val (1619-83) son-in-law of Nicolas Sanson, ( Duval published a wide range of atlases, individual maps of the world and the continents and wall maps but most of the folio maps are rare..All the maps from this edition are revised and updated maps.A rare map I can find no other for sale.Original outline colour.Very good condition.
Cartographer : DU VAL Pierre
Pierre Du Val (1619-1683) was one of the most influential and prolific mapmakers and publishers working in Paris in the third quarter of the seventeenth century. He was the nephew of Nicolas Sanson, the leading French mapmaker of the period, and Geographer to the King of France from 1650. He was also responsible for providing maps for other Parisian editors of the period; Jollain, de Fer and Berey amongst others.
subscribe to our newsletter