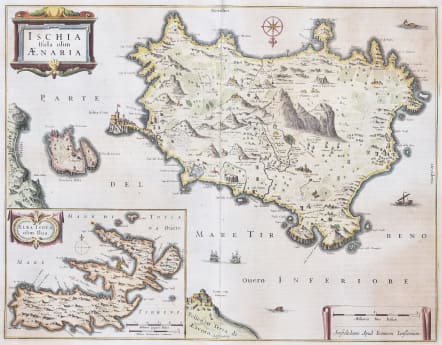 ISCHIA ISOLA OLIM AENARIA
£250
Unusual map of Aschia By Janssonius
Map of Ischia with inset map of Elba from the Atlas Novus published by Hondius and Jansson in 1639.
North orientated to bottom of map.
Elba Island map, based on Mangini's cartography, with miles scale, wind rose and title cartouche of renaissance -type taste.
The map of Ischia island, based on Cartaro work, shows the island with the north at the bottom and a raised point of view that allows to identify the characteristics of the territory. (Mountains, castles, farmhouses, urban areas, etc.).
The map is embellished with sailing ships, sea monsters and beautiful cartouches.
Toning to right of map.
Excellent hand colour
Overall very good condition
References: Van der Krogt 1 - 7550:1.1
Cartographer : JANSSONIUS Johannes
Johannes Janssonius Jr. (1588-1664) was the son of the bookseller and publisher, Johannes Janssonius of Arnhem (ie. Janssonius, the elder). The elder Janssonius of Arnhem acted as co-publisher, with Cornelis Claesz, of the early editions of Hondius' "Atlas Minor".
Janssonius Jr. married Jodocus Hondius' daughter Elisabeth in 1612. From about 1633 onwards Janssonius' name and imprint started appearing on the Mercator/Hondius "Atlas ..." After 1636 the name of the "Atlas ..." was changed to "Atlas Novus "with Janssonius being responsible, in the main, for its publication.
The "Atlas Novus" was expanded by Janssonius over the years of its publication in an attempt to rival Blaeu's "Atlas Maior" for size and quality. Janssonius' "Atlas Novus" eventually comprised six volumes with a nautical atlas and an atlas of the ancient world included. The maps were relatively similar format to those of Blaeu, although a difference in style is certainly discernible.
Janssonius also issued an "Atlas Maior" of his own, again in competition with Blaeu, but this was not issued as regularly as the Blaeu version. The "Atlas Maior" comprised some ten volumes - eleven if the Cellarius celestial volume is included.
subscribe to our newsletter