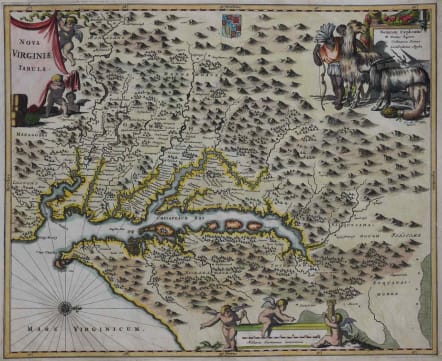 RARE MAP OF VIRGINIA NOVA VIRGINIAE TABULA
£945
Decorative example of Ogilby's edition of Smith's map of the Virginia & Chesapeake region.
The map is based upon the earlier maps by Hondius and Blaeu, a bit smaller, but with 3 large cartouches, one of which includes fascinating indigenous people & animals, including a llama and horned long haired sheep. Smith's map of the Chesapeake region was the basic prototype of all regional maps until Augustine Herman's exceedingly rare 4 sheet map published in London in 1673. Tooley notes that the map derives from the first state of the Smith map, and therefore lacks the longitude lines added in later states.
Excellent hand colour in mint condition.
References: Burden, P.D. #412; Tooley, R.V. (Amer) pp.168-169, pl.76; Goss, J. (N. Amer) #38.
Cartographer : OGILBY John
John Ogilby (1600-1676) had a variety of colourful careers (not invariably ending in disaster) before he embarked on a career as a surveyor and cartographer. "Tooley's Dictionary Of Mapmakers" suggests he was a dancing master, poet, translator, historian, printer, publisher, Royal Cosmographer (1671), Master of the King's Revels in Ireland, founder manager and director of Dublin's first theatre and surveyor to the City of London, amongst others.
subscribe to our newsletter