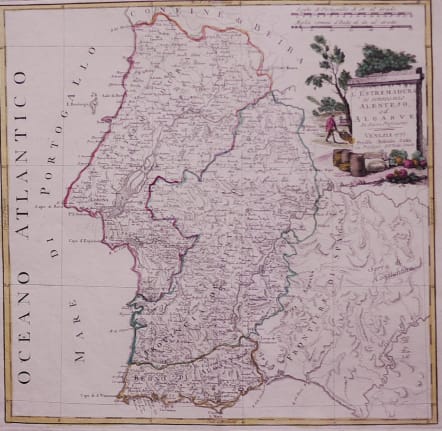 LISBON ALGARVE L'ESTRAMADURA DI PORTOGALLO ALENTEJO ED ALGARVE
Sold
A veey attractive map by the famous late 18th century north-italian cartographer Antonio Zatta. With many names of villages, as well engraved mountains and rivers are showns. The handcolored engraved title cartouche ornated with a landscape. Cartouche with original hand colour rest of map with original outline colour.
Mint condition
µµ SOLD
Cartographer : Zatta Antonio
ZATTA, Antonio
1757-1797
Antonio Zatta was a prolific Venetian printer and map publisher. He produced a large number of atlases and maps of high scientific and artistic quality.
His best know work was the Atlante Novissimo atlas published in 1779.
subscribe to our newsletter