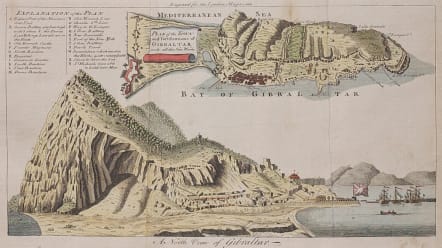 PLAN OF THE TOWN AND FORTIFICATIONS OF GIBRALTER WITH ALL THE NEW WORKS
Sold
Scarce
Rare map view of Gibralter ' A North view of Gebralter'. Essentially a plan and a view on one sheet.
Excellent hand colour
Very good condition
Cartographer : KITCHIN Thomas
Thomas Kitchin (1718-1784) was one of the best and most prolific engravers of the eighteenth century. He issued The General Atlas, Describing the Whole Universe , first published in 1773, and regularly reissued thereafter. His work also included a large number of maps of the English counties, particularly for the London Magazine (1747-1760), the Universal Magazine (1747-1766), and for Dodsley's England Illustrated (1764). Other maps were published in conjunction with Emanuel Bowen in the Large English Atlas and the Royal English Atlas (1763).
subscribe to our newsletter