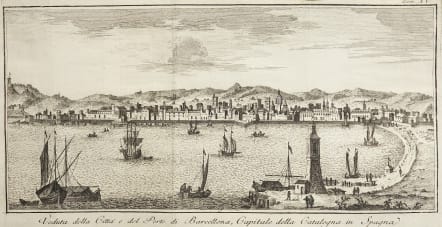 VEDUTA DELLA CITTA E DEL PORTO DI BARCELLONA
£195
Attractive rare and detailed viewf Barcelona.
Thomas Salmon's copper engraved panoramic view of Barcelona, Spain is taken from the sea. The view shows the cities of his buildings, churches, harbor and surrounding landscape. Several sailing ships and inhabitans adorn the view.
This view is from the correct perspective not as some are in reverse.
Good strong impression
Very good condition
What I find interesting you can buy this original antique print for less than a famous imagelibrary actually charges to use
https://www.gettyimages.ae/detail/news-photo/barcelona-1745-veduta-della-citta-e-del-porto-di-barcellona-news-photo/1041721434 £375
subscribe to our newsletter