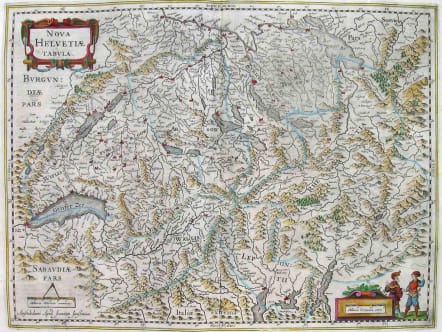 SWITZERLAND NOVE HALVETIAE TABULA
Sold
Attractive classic map of the whole of Switzerland.Cartouches.Good hand colour.Very good condition.SOLD
Cartographer : JANSSONIUS Johannes
Date : 900:/001630 Amsterdam
Johannes Janssonius Jr. (1588-1664) was the son of the bookseller and publisher, Johannes Janssonius of Arnhem (ie. Janssonius, the elder). The elder Janssonius of Arnhem acted as co-publisher, with Cornelis Claesz, of the early editions of Hondius' "Atlas Minor".
Janssonius Jr. married Jodocus Hondius' daughter Elisabeth in 1612. From about 1633 onwards Janssonius' name and imprint started appearing on the Mercator/Hondius "Atlas ..." After 1636 the name of the "Atlas ..." was changed to "Atlas Novus "with Janssonius being responsible, in the main, for its publication.
The "Atlas Novus" was expanded by Janssonius over the years of its publication in an attempt to rival Blaeu's "Atlas Maior" for size and quality. Janssonius' "Atlas Novus" eventually comprised six volumes with a nautical atlas and an atlas of the ancient world included. The maps were relatively similar format to those of Blaeu, although a difference in style is certainly discernible.
Janssonius also issued an "Atlas Maior" of his own, again in competition with Blaeu, but this was not issued as regularly as the Blaeu version. The "Atlas Maior" comprised some ten volumes - eleven if the Cellarius celestial volume is included.
subscribe to our newsletter