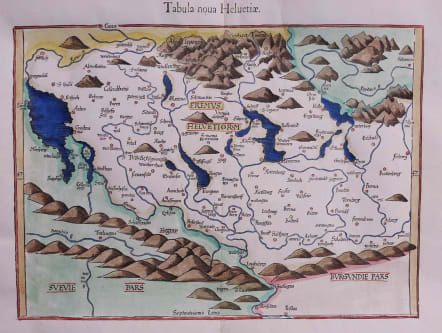 TABULA NOUA HELUETIAE
Sold
Very beautiful rare early Ptolomaic map of Switzerland by Fries and after Waldseemüller. Published probably by Trechsel, Gaspar; Vienna.
Covers that part of Switzerland from Friburg to Bern, including Thun, Zurich, Lucerne and the Bodensee. Delightful depiction of Mountains, rivers and lakes. Excellent later hand colour faithful to early colour.
Excellent condition.
From: Claudii Ptolemaei Alexandrini geographicae enarrationis libri octo.
Cartographer : FRIES Lorenz
Size : 40.5*54cms sheet 33*42 cms printed map
Laurent Fries (*1485 - †1532)
Laurent Fries was a French physician and mathematician born around 1485 in Mulhouse. He settled finally in Strassburg where he meat Peter Apian and the publisher Johannes Grüninger which made him interested in the Ptolemy Atlas of 1513 and 1520. Fries made new woodcut maps in reduced size. His Ptolemy Atlas was published first in 1522, reissued in 1525, 1535 and 1541. He died in 1532.
subscribe to our newsletter