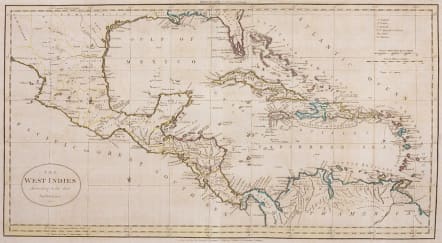 THE WEST INDIES ACCORDING TO THE BEST AUTHORITIES
£135
The large West Indies map from Guthrie's New System of Geography.
Includes East and West Florida, the Mississippi Delta, and all of New Mexico, Mexico, Central America and northern South America.
A color key in the upper right corner lists the region's European colonial powers. Probably engraved by Thomas Kitchen.Original outline colour
.Very good condition.
Cartographer : GUTHRIE William
Atlas Universel pour la Geographie de Guthrie reengraved by Blondeau
subscribe to our newsletter