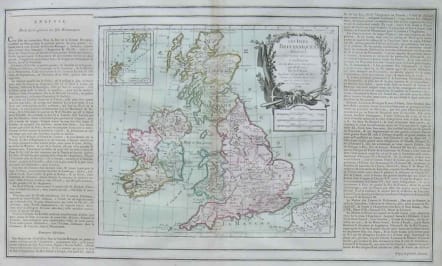 BRITISH ISLES LES ISLES BRITANNIQUES
Sold
An attractive map of the British Isles including an inset of the Orkney and Shetland Islands. Finely embellished with a large title cartouche.
The map is flanked by two columns of French text containing geographical information about the area. Map and border were printed from two separate plates with the text on glued down sheets, as issued.
Prepared by Louis Brion de la Tour and published by Louis Charles Desnos, active in Paris at rue St.Jacques.
From Atlas Général et Élémentaire pour l'Etude de la Géographie et de l'Histoire moderne.
Size : 33*51cms sheet 25*27 Map
subscribe to our newsletter