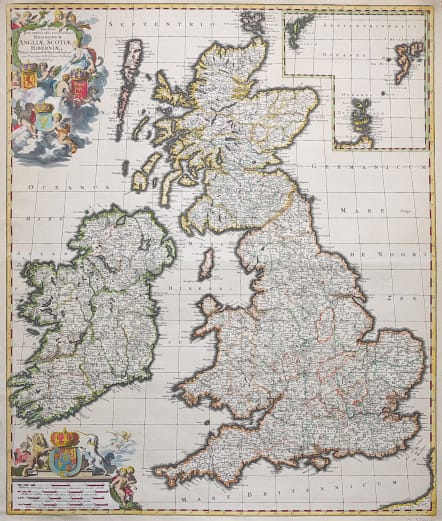 NOVISSIMA PRAE CETERISALIIS ACCURATISSIMA REGNORUM ANGLIAE SCOTIAE HIBERNIAE
Sold
Very decorative and scarce map of Britain that includes an inset of the Faro, Shetland and Orkney Islands. The cartography of Ireland follows Petty's surveys and the map is fully engraved with political information. The title cartouche is surrounded by clouds in which putti display the coats of arms of England, Scotland and Ireland. The scale of miles is further embellished with the royal coat of arms during the reign of William and Mary (1689-94) and several figures. This is the second state.
Excellent colour
Very good condition.
Cartographer : WIT Frederick De
Frederick De Wit (1610-1698) was a prolific Dutch engraver and publisher, active in Amsterdam in the second half of the seventeenth century. He acquired a number of copperplates from the sale of the Blaeu and Jansson stocks to supplement his own plates, thus having a stock of about four hundred maps. De Wit's own maps are noted for the fine standard of engraving, invariably well designed and decorative. They were very popular amongst his contemporaries, being reprinted many times both by himself and his successors, the Mortiers.
subscribe to our newsletter