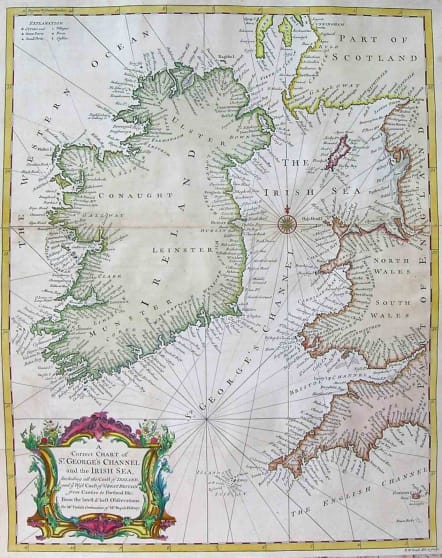 IRELAND SEA CHART A CORRECT CHART OF ST GEORGE'S CHANNEL AND THE IRISH SEA
£250
A detailed and attractive chart concentrating on St. George's Channel and the Irish Sea and all of Ireland. The map also includes the west coast of Britain and all of Ireland.Rococo cartouche.Compass rose.Superb hand colour.Very good condition.
Cartographer : Seale, Richard
Richard William Seale (d.1785, fl.1732-1772) was a well-known engraver and draughtsman working in London. His work is often encountered in the maps from Tindal's continuation of "Rapin's History Of England" (1744-1777). The atlas primarily contains maps depicting the military actions fought by the English during the campaigns of the War of the Spanish Succession, notably in the Low Countries, but also in Spain, and was also supplemented by a series of contemporary maps, of the countries of the British Isles, and parts of the wider world. Seale also contributed to a large number of other books, magazines and atlases of the period – the "London Magazine" and the "Universal Magazine".
subscribe to our newsletter