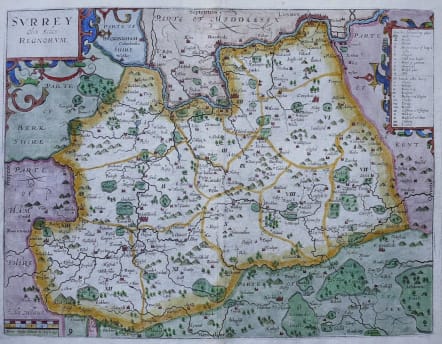 SURREY OLIM SEDES REGNORORUM
Sold
Beautiful and uncommon very early map of Surrey by William Hole after C Saxton for the first edition of Camdens Britannia. Really the first available map of Surrey you can buy.
For the edition of 1607,the maps, copied mainly from Christopher Saxton's and John Norden's recent work, would be re-engraved by William Kip and William Hole. Saxton's atlas of 1579 had been the first to show English and Welsh county maps but had shown many of the counties grouped together. The maps for "Britannia" are well engraved, clearly detailed, and, with elegant flourishes to the typography, constitute the first series to show each county of England and Wales separately. An attractive early map which was to have a long-lasting influence on English map-makers.
Excellent hand colour.
Very good condition.
Cartographer : KIP William
CAMDEN'S BRITANNIA: William KIP & William HOLE
William Camden (1551-1623) was an English historian and antiquary who devoted himself to the study of the antiquities of Britain, travelling round the country visiting sites. The results of his work were brought together in the "Britannia", first published in 1586 then much reissued and augmented over the following two centuries. However, one of the few criticisms levelled at the 186 first edition of this work was the absence of maps.
This failing was remedied in the sixth edition of 1607 for which maps were commissioned from William Kip and William Hole. Drawing on the surveys of Christopher Saxton, John Norden and the Anonymous/William Smith series, they produced a series of 57 maps.
subscribe to our newsletter