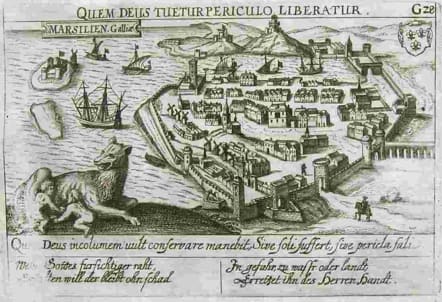 MARSEILLE MARSILLIEN
Sold
Rare small view of Marseille.Allegorical.Ships etc.Very good condition.
Cartographer : MEISSNER Daniel
Daniel Meissner (*1585 - †1625)
Daniel Meissner was born 1585 in Komotau, Bohemia and lived in Frankfurt Sachsenhausen after he finished his education. His most important work was "Thesaurus Philo-Politicus", a collection of cityviews beside the well known works of Merian, Braun & Hogenberg and Münster. First published 1623 by Eberhard Kieser (Frankfurt, 1583-1631) titled "Thesaurus Philo-Politicus. Das ist: Politisches Schatzkästlein guter Herren unnd bestendiger Freund" with total 52 views. Followed by the second edition between 1624 and 1631 with 416 views and finally the third edition 1638-43 with new title "Sciographia cosmica" by Paulus Fürst (Nuremberg, 1608-66) with around 830 views. The engravings of cities, villages, monasteries and castles showing the places before Thirty Years' War and have high source relevance. He died in 1625.
subscribe to our newsletter