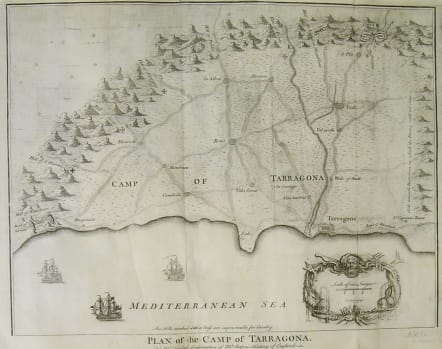 TARRAGONA PLAN OF THE CAMP OF TARRAGONA
Sold
Depicted is the road to Barcelona, the road to Tortosa, and the towns of Valla, Constanina, Villa Secca, Cambrils, la Silva and others. Crosses are noted to indicate hills that are 'impracticable for cavalry'. The ancient town of Tarragona is shown with large fortifications. The plan is complete with a very decorative cartouche and three ships in the harbour.Strenghtening of folds.Good condition.
Cartographer : Isaac Basire
Isaac Basire (1704-68),Famous for many maps most commonly a great number in Tindalls continuation of Rapin de Thoyras' History of England. He also contributed maps to the entlemans magazine.His son james(1769-1822) and grandson (1796-1869) also named James; these four generations of Basires were all engravers. Their longetivity produced overlapping careers, which has led to difficulties in attribution of some works..
subscribe to our newsletter