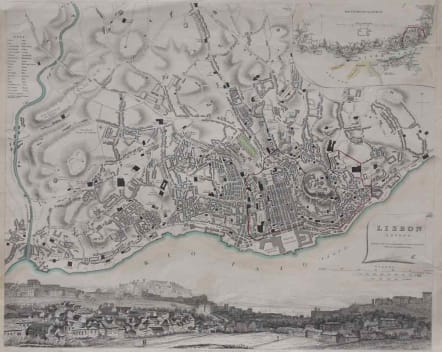 LISBON LISBOA
Sold
Striking 19th century plan with a panoramic view of the city titled "Lisbon, from the Quinta da Torrinha Val de Pereiro" filling the bottom. The plan shows the city center enclosed by the walls erected by Dom Fernando in 1375 and the surrounding newer city. Inset of the Environs of Lisbon at top right. Published by Chapman & Hall.
Original outline color.
The Society For The Diffusion Of Useful Knowledge was founded by John, Earl Russell, and Henry Brougham, later Lord Chancellor of England in 1827. The Society's main purpose was to encourage universal literacy by publishing numbers of books of good quality that would be affordable to the poor. Perhaps the grandest of their publications was their atlas, originally entitled "Maps Of The Society For The Diffusion Of Useful Knowledge", first issued by Baldwin and Cradock, and then re-issued by other publishers, latterly Edward Stanford.
subscribe to our newsletter