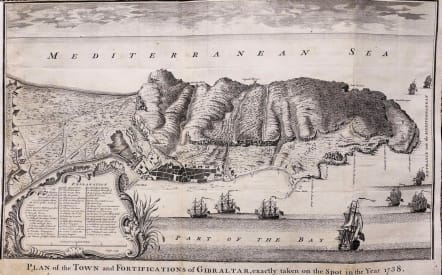 GIBRALTAR PLAN OF THE TOWN AND FORTIFICATIONS OF GIBRALTAR
Sold
Plan of the Town and Fortifications of Gibraltar, exactly taken on the spot in the Year 1738.
A map of Gibraltar marking the fortifications of both the British Garrison and those of the Spanish from the Thirteenth Siege of Gibraltar (1727). It is likely that the author of the map was Tindall himself: as Chaplain to the Fleet he had been posted to Gibraltar. Nicholas Tindal (1687-1774), at one time Chaplain to Greenwich Hospital, first published a translation of Frenchman Paul de Rapin's 'History of England' in 1727, running to thirteen volumes; in 1732 it was enlarged with his own notes and maps.
Uncoloured as issued.
Very good condition
Cartographer : Isaac Basire
Isaac Basire (1704-68),Famous for many maps most commonly a great number in Tindalls continuation of Rapin de Thoyras' History of England. He also contributed maps to the entlemans magazine.His son james(1769-1822) and grandson (1796-1869) also named James; these four generations of Basires were all engravers. Their longetivity produced overlapping careers, which has led to difficulties in attribution of some works..
subscribe to our newsletter