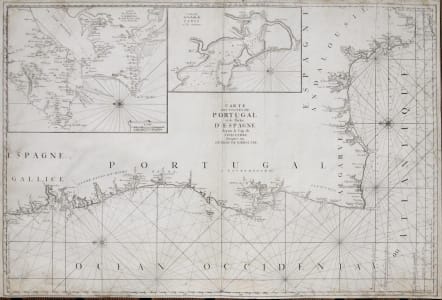 CARTE DES COSTES DE PORTUGAL ET DE PARTIE D'ESPAGNE DEPUIS LE CAP DE FINISTERE JUSQUE S AU DETROIT DE GIBRALTER
£350
This stunning large-scale chart depicts the coastline of Portugal from the Strait of Gibraltar to Muros and Fisterra (Finisterre) in Spain. Key cities and river inlets are depicted along the coast, with numerous soundings, rocks, shoals, and anchorages shown. Decorative compass roses orient north to the left of the chart. Two large insets show Lisbon with the entrance to the Tejo River and Cadiz.
Engraved by Hermann van Loon.
Issued by Depot de la Marine but before their stamp. This map was initially issued by Jaillot in 1686-91 in Sanson & Jaillots monumental Sea Atlas.
Heavy, watermarked paper with some repairs and slight staining on what was probably a single sheet issued map.
Otherwise good condition.
Cartographer : Jacques-Nicolas BELLIN
Jacques-Nicolas Bellin (1703-1772) was one of the most important and prolific French cartographers of the mid-eighteenth century, in the service of the French Hydrographical Office. He was appointed the first Ingenieur Hydrographe de la Marine, and also Official Hydrographer to the French King.
Bellin was responsible for an enormous output of charts and maps. In a large folio format, he issued a volume of sea-charts of France, the Neptune Francois, and several sea-atlases of the World, including the Atlas Maritime and the Hydrographie Francaise. These large charts were amongst the best of the period and continued being reissued throughout the second half of the eighteenth century.
In smaller format, he issued the Petit Atlas Maritime (1764),which contained 580 detailed charts, as well as maps to illustrate l'Abbe Prevost's Histoire Generale des Voyages (1746-1757). Bellin also produced a substantial number of important separately issued maps, particularly reflecting continuing discoveries and political events in the Americas.
subscribe to our newsletter