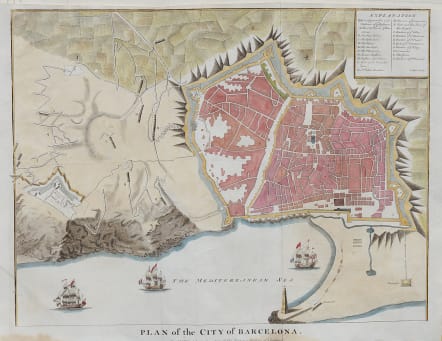 PLAN OF THE CITY OF BARCELONA
Sold
Attractive large birds eye view/map of Barcelona.Copper line engraving on paper by Isaac Basire, produced to accompany Mr Tindal's Continuation of Mr Rapin's History of England, circa 1740.
Interesting plan of the city, with an explanation of the various buildings and fortifications.
Slight staining below title in bottom margin
Good hand colour
Very good condition
Cartographer : Isaac Basire
Isaac Basire (1704-68),Famous for many maps most commonly a great number in Tindalls continuation of Rapin de Thoyras' History of England. He also contributed maps to the entlemans magazine.His son james(1769-1822) and grandson (1796-1869) also named James; these four generations of Basires were all engravers. Their longetivity produced overlapping careers, which has led to difficulties in attribution of some works..
subscribe to our newsletter