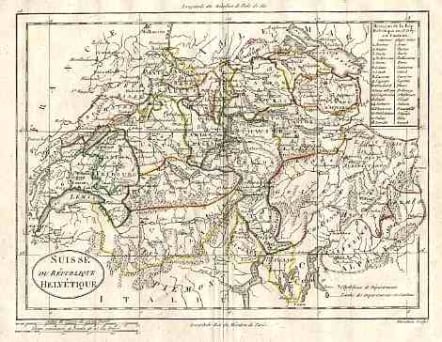 SUISSE OU REPUBLIQUE HELVETIQUE
Sold
Attractive little map.MANY PLACE NAMES,SHOWS mountains etc.Original outline colour.V.good condition.SOLD
Cartographer : MATHAIS QUAD
Matthias Quad, born in Deventer in 1557, was trained there as an engraver by the Van Deutecum brothers. He also studied with Hendrick Goltzius in Haarlem. Later, after spending some time in France and England, he settled in Germany.
He lived in Cologne since 1587 where he met the renowned engraver and mapmaker Frans Hogenberg and the printer and publisher Johann Bussemacher. For the next 15 years, Quad worked closely with Bussemacher, especially in publishing atlases. In 1592 he published a translation of an atlas by Botero, and in the following years, several geographical works followed.
Together with Bussemacher, he prepared a hand and travel-atlas in small format for which he mainly took engraving to heart. From 1592, they published some editions under the name of Bussemacher without text. In 1594 appeared the Europae … descriptio as an atlas with 50 maps with the text by Quad. Bussemacher printed the maps, but the text was printed by Lambert Andreae, with whom Bussemacher often collaborated. In 1600 followed the Geographisch Handtbuch, a world atlas with 82 maps.
From that time on Quad releases a series of Itineries. The Deliciae Germaniae (1600), the Deliciae Galliae (1600), the Itinearium universae Germaniae (1602), and others on Northern Europe, Italy and Spain.
He spent the last years of his life as a teacher in Eppingen, where he died in 1613.
subscribe to our newsletter