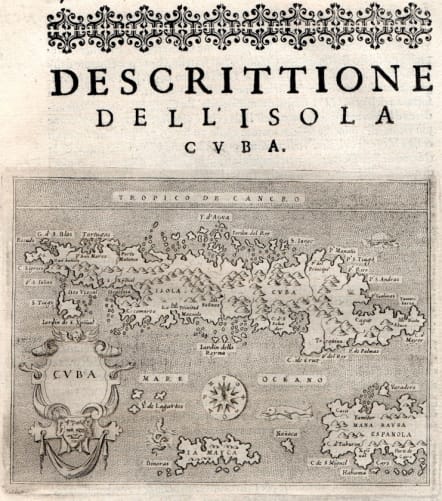 DESCRITTIONE DE L'ISOLA CUBA
£245
Early detailed and attractive map of the island is based on the cartography of Giacomo Gastaldi. The map includes Jamaica and part of Hispaniola. The Ye de Lagartos, shown north of Jamaica, is one of the earliest references to the Cayman Islands to appear on a map. The map was graphically engraved by Girolamo Porro, with a stipple engraved sea embellished with sea monsters, a sea turtle, a compass rose, and a title cartouche. It is from one of the most famous Isolarios (Island Books) produced in the 16th century. Printed on a full sheet of Italian text with a historiated initial; title above map, Descrittione Dell' Isola Cuba.
Excellent condition.
Publication: L'Isole piu Famose del Mondo
Ref: Cueto #6; King (2nd Ed.), p. 57-59.
Cartographer : PORCACCHI Tomaso
Tomaso Porcacchi of Castiglione Aretino [1530-1585]. Italian. Published "L'Isole piu famose del Mondo" Venice, from 1572
subscribe to our newsletter