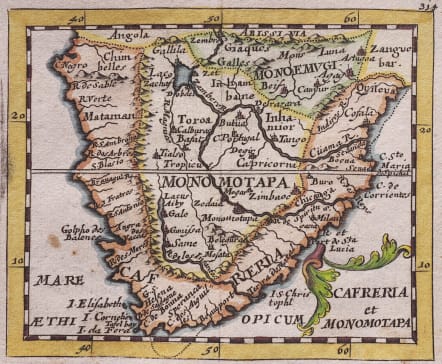 CAFRERIA ET MONOMOTAPA
£95
Small map of the southern tip of Africa showing the native nations of Cafreria along the coasts and the huge Monomotapa in the interior.
Good detail , many place names
C. De Bonna Speranca. ..
Good hand colour
Very good condition
References: King (1st ed.) p. 123.
Cartographer : DU VAL Pierre
Pierre Du Val (1619-1683) was one of the most influential and prolific mapmakers and publishers working in Paris in the third quarter of the seventeenth century. He was the nephew of Nicolas Sanson, the leading French mapmaker of the period, and Geographer to the King of France from 1650. He was also responsible for providing maps for other Parisian editors of the period; Jollain, de Fer and Berey amongst others.
subscribe to our newsletter