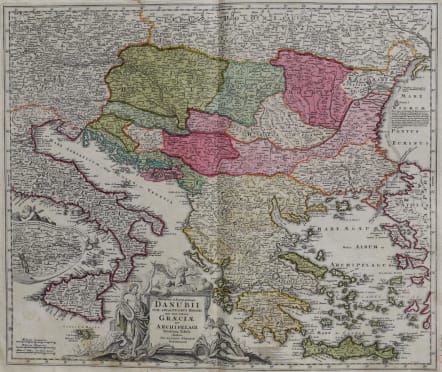 FLUVIORUM IN EUROPA PRINCIPIS DANUBII CUM ADIACENTIIBUS REGNIS nec non totius Graeciae Et Archipelagi Novissima Tabula
£375
Rare first state of Homann's map of Greece, the Balkans and contiguous parts of the Adriatic and Aegean Seas. Striking decorative cartouche and a large inset map of the Upper Danube region. Excellent detail among the islands, and showing the straits from the Aegean into the Black Sea. A remarkable dark clean impression, from a very early edition of Homann's Atlas Novus Terrarum. Pre-dates Homann's priviledge.. In all, a nice example.
Cartographer : Homann Family
Johann Baptist Homann (1664-1724) started his career in Amsterdam as an apprentice with the Danckerts family before returning to Nuremberg to establish himself in business in 1702.
The firm quickly became the principal geographical publishers in Germany and in 1715 Homann was appointed Geographer to the Holy Roman Emperor and he was also a member of the Prussian Royal Academy of Sciences.
His publications included the "Neuer Atlas Ueber Die Gantze Welt ..." in 1707-. The "Grosser Atlas ..." of 1716- and the "Atlas Novus Terrarum Orbis Imperioa" in c.1720, as well as many others. Johann died in 1724 and was succeeded by his son Johann Christoph who died in 1730. After his death the firm took the name Homann's Heirs and continued thereafter until 1813. Publications with the Homann's Heirs' imprint included the "Grosser Atlas" in 1731, Doppelmays'r "Atlas Coelestis ..." in 1742 and the "Atlas Geographicus Maior ..." in 1753-, amongst others. Throughout this entire period the firm were the leading map publishers in Germany, employing a number of very important cartographers
subscribe to our newsletter