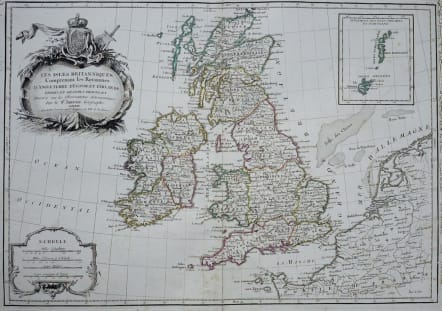 Les Isles Britanniques Comprenant les Royaumes D'Angleterre, D'Ecosse, et D'Irlande, Divise's En Grandes Provinces, Subdifes par Comte's Dresse's sur les Observations, Astronomiques Par le S r Janvier Geographe
£165
Very attractive map of the British Isles from Janviers Atlas Moderne.
Nicely engraved chart of Britain with an inset of the Orkney and Shetland Islands. Good detail throughout including coastal France through the Netherlands. Large and decorative title cartouche with the royal coat of arms, plus another rococo-style cartouche surrounding the four distance scales.
Some 18th century manuscrpt writing in marhin not affectinf the printed area.
Very good condition.
Cartographer : JANVIER Jean
Jean or Robert Janvier (fl. 1746 - 1776) was a Paris based cartographer active in the mid to late 18th century. Janvier true first name is a matter of debate, as it appears as it often appears as either Jean or Robert. More commonly, Janvier simply signed his maps Signor Janvier. By the late 18th century Janvier seems to have been awarded the title of "Geographe Avec Privilege du Roi" and this designations appears on many of his latter maps. Janvier worked with many of the most prominent French, English and Italian map publishers of his day, including Faden, Lattre, Bonne, Santini, Zannoni, Delamarche, and Desnos.
subscribe to our newsletter