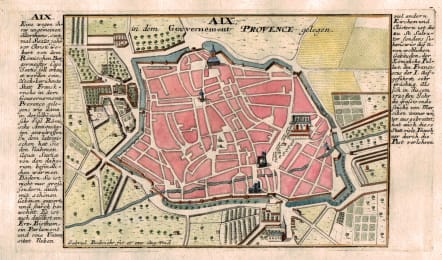 AIX IN DEM GOUVERNEMENT PROVENCE
£125
Rare plan of Aix en Provence in 1700. Depicts the layout of the city that probably hasnt changed to this day. River running through it , Churches etc
Outside the city walls the gardens and orchards are finely shown.
Excellent hand colour
Mint condition
Cartographer : BODENEHR Gabriel
BODENEHR, Gabriel
1673-1765
German engraver and mapmaker of Augsburg. Son of Johann Georg Bodenehr [1631-1704] & from a family dynasty of engravers and publishers.
His works include Atlas Curieux [1704] and Curioser Staats und Kriegs Theatrum [1715].
In 1717 the family took over the Augsburg publishing house of Stridbeck. Succeeded by his son Gabriel the younger.
subscribe to our newsletter