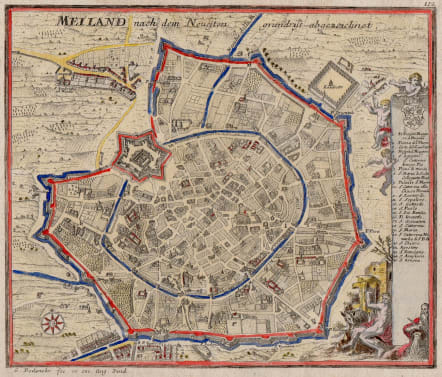 MEILAND NACH DEM NEUESTEN GRUNDISS ABGEZEICHNE
£140
Scarce Bodenehr plan of Milan.
Interesting and detailed early 18th century plan. Decorative with Putti holding up the legend on right hand side.
Outline and wash colour
Very good condition
Publication: 'Atlas Curieux oder Neuer und Compendieuser Atlas'. Published by Gabriel Bodenehr (1673-1765) Augsburg 1720.
Cartographer : BODENEHR Gabriel
BODENEHR, Gabriel
1673-1765
German engraver and mapmaker of Augsburg. Son of Johann Georg Bodenehr [1631-1704] & from a family dynasty of engravers and publishers.
His works include Atlas Curieux [1704] and Curioser Staats und Kriegs Theatrum [1715].
In 1717 the family took over the Augsburg publishing house of Stridbeck. Succeeded by his son Gabriel the younger.
subscribe to our newsletter