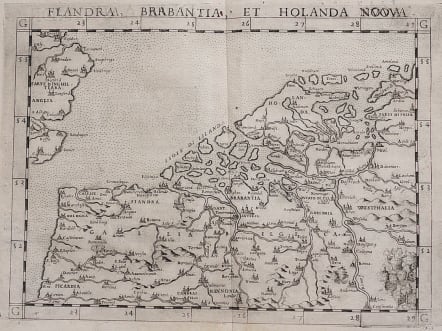 FLANDRA BRABANTIA ET HOLLANDA NUOVA
£295
Attractive uncommon map of the Low Countries.
Nice example of Ruscelli's map showing Holland, Flanders and part of England.
One of the earliest separately issued modern maps of the Low Countries.
Ruscelli's Atlas is an expanded edition of Gastaldi's Atlas of 1548, which has been called the most comprehensive atlas produced between Martin Waldseemüller's Geographiae of 1513, and the Abraham Ortelius Theatrum of 1570.
Ruscelli's maps from the Geographia are among the best modern maps of the period.
Uncoloured as issued
Near mint condition.
Cartographer : RUSCELLI Girolamo
Girolamo Ruscelli (1500s-1566) was an Italian polymath, humanist, editor, and cartographer active in Venice during the early 16th century. Ruscelli is best known for his important revision of Ptolemy's Geographia, which was published post humously in 1574. It is generally assumed that Alexius Pedemontanus was a pseudonym of Girolamo Ruscelli. In a later work, Ruscelli reported that the Secreti contained the experimental results of an 'Academy of Secrets' that he and a group of humanists and noblemen founded in Naples in the 1540s. Ruscelli's academy is the first recorded example of an experimental scientific society. The academy was later imitated by Giambattista Della Porta, who founded an 'Accademia dei Secreti' in Naples in the 1560s.
subscribe to our newsletter