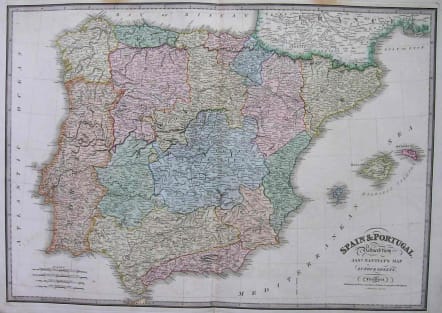 SPAIN SPAIN & PORTUGAL REDUCED FROM JASR NANTIAT'S MAP
£115
Large attractive map, published bt James Wyld.Uncommon.Good original hand colour.Some browning in top margin. Very good condition.
Cartographer : WYLD Family
James Wyld (senior) had been apprenticed to William Faden, taking over the business in 1823 and re-issuing many of Faden's maps, and eventually became Geographer to His Majesty (George IV and William IV) and HRH the Duke of York. Wyld was also a founder member of the Royal Geographical Society in 1830 and had worked in the Quarter Master General's Office. "Tooley's Dictionary Of Mapmakers" tells us that Wyld's career is also remarkable for having introduced lithography into map printing in "Plans Of The Peninsula Campaign" in 1812. The "Dictionary" also states that Wyld 'died from overwork' having had such an illustrious career.
subscribe to our newsletter