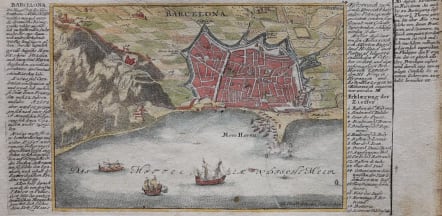 BARCELONA RESERVED
Sold
Town plan of Barcelona with a bird's-eye-view of the harbor, at the left and right side with a text about the city and a legend, published in Bodenehr's Curioses Staats und Kriegs Theatrum.
Attractive uncommon map.
The view shows the fortified town of Barcelona, harbor and surrounding areas, which are noted in the key on the right side, along with a town history on the left side. The Bodenehr family of engravers and publishers of Augsburg began with Johannes Georg Bodenehr (1631 - 1704), a publisher of atlases and geographical books. His son Gabriel Bodenehr (1664 - 1758) took over the plates of Johann Stridbeck (1640 - 1716) and revised and issued them together with many other own views and maps in his books and atlases. In 1758 Georg Christian Kilian (1709 - 1781) took over his the publishing house.
Good hand colour. Small mark in dea otherwise a rare map in very good condition.
RESERVED
Cartographer : BODENEHR Gabriel
BODENEHR, Gabriel
1673-1765
German engraver and mapmaker of Augsburg. Son of Johann Georg Bodenehr [1631-1704] & from a family dynasty of engravers and publishers.
His works include Atlas Curieux [1704] and Curioser Staats und Kriegs Theatrum [1715].
In 1717 the family took over the Augsburg publishing house of Stridbeck. Succeeded by his son Gabriel the younger.
subscribe to our newsletter