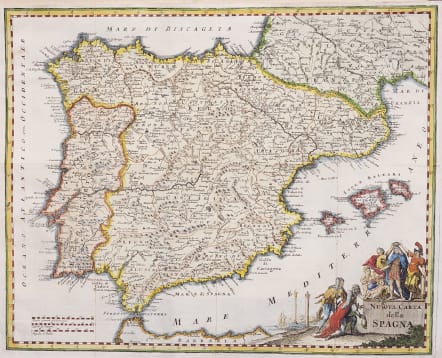 NUOVA CARTA DELLA SPAGNA
£145
Attractive and detailed map of Spain and Portugal with elaborate title at lower right.
Many place names etc. Small near invisible repair.
Excellent hand colour
Very good condition
Publication: Albrizzi, Atlante Novissimo del Sigr. Guglielmo de L'Isle, Venezia. (volume Secondo MDCCL-1750)
Cartographer : Albrizzi Giovani
Although Venice had been the centre of the European map-trade in the 1550s, its importance had been subsequently eclipsed by Antwerp and then Amsterdam in the late sixteenth and seventeenth centuries. So it was from Amsterdam that Giovanni Battista (Giovambattista) Albrizzi, the Italian, took inspiration for his best-known atlas - the Nieuwe En Beknopte Handatlas ... by Isaak Tirion was translated into Italian and published in Venice by Albrizzi. Albrizzi was also responsible for publishing an edition of Guillaume De L'Isle's atlas as Atlante Novissimo.
subscribe to our newsletter