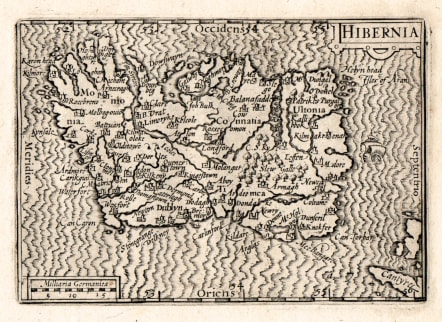 HIBERNIA
Sold
Uncommon small map of Ireland by Visscher
From Tabularum Geographicarum Contractarum Amsterdam 1649
A very rare and attractive miniature map of Ireland, oriented with north to the right, probably engraved by Petrus Kaerius,
Two small cartouches. Incredible stippled sea.
A fine example of a distinctively engraved, finely printed, and significant little map. Now very rare
Mint condition
Ref: Koeman III 5900:341
Claes Jansz. Visscher, or N.J. Piscator (1587-1652)
Claes Jansz. Vischer bought a house in Amsterdam, 'de gulden Bors', on the important Kalverstraat and changed the name into "In de Visscher" and it was under this title that the shop was to flourish for many years.
He was famous for his engravings and etchings of Dutch landscape and of 'historical scenes', such as sieges, battles, etc. These 'historical scenes' were considered as contemporary illustrated news items, especially, e.g., that of 'the Eighty Years' War'.
For the publication of his first atlas, he bought copperplates of the atlas Germania Inferior by Pieter van den Keere (1623).
In 1649, he published an atlas entitled Tabularum Geographicarum Contractarum, containing the same maps as Langenes' Caert Thresoor,
Size : 8.5*12.5cms sheet 14*17 cms
Among the many great Dutch map publishers active in the seventeenth century were the Visscher family; the firm was begun by Claes Jansz Visscher (1587-1652), and subsequently included his son Nicolaas (1618-1679), grandson Nicolaas II (1649-1702) and then his grandson's widow, Elizabeth, until her death in 1726.
Although mainly art dealers, the Visschers were prolific publishers, producing individual maps and also atlases made up to their customers' specifications. Indeed, they are commonly regarded as second only to the Blaeus among Dutch map-makers for the high quality of engraving and decoration and the geographical accuracy of their many maps. Particularly outstanding - not only as maps but as works of art - are their world maps.
subscribe to our newsletter