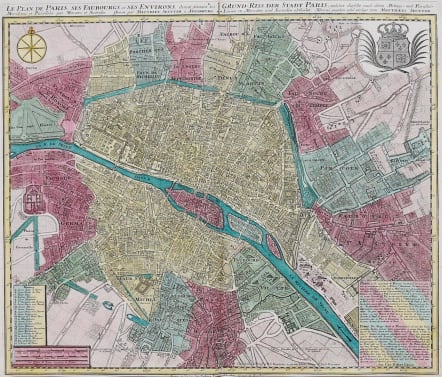 LE PLAN DE PARIS, SES FAUBOURGS ET SES ENVIRONS DIVISE SUIVANT SES MERIDIENS ET PARALLELES
£795
Very attractive and finely detailed folio plan of Paris also depicts its surrounding faubourgs and environs. A long note at lower right explains that Paris is divided into three parts, namely the City, the Town and the University. A lettered key names and locates 23 important buildings. Streets, churches, palaces, gardens, boat yards, orchards, hotels and much more are depicted on this superb plan. This fully engraved and handsome chart is further embellished with a large city coat of arms, a very nice compass rose, and three distance scales. Couple of invisible repaired tiny worm holes in margin.
In exceptional original colour.
Near mint condition.
REF Les Plan de Paris Jean Boutier .194.D
Ref
Cartographer : SEUTTER Family
Besides the Homanns, the other great German publishers of the eighteenth century were the Seutter family. Mattheus Seutter the elder (1678-1757) was apprenticed to Johann Baptist Homann in 1697 in Nuremberg, but left to settle in Augsburg where he established his own business publishing atlases, including the "Atlas Geographicus" (1725) and "Grosser Atlas" (circa 1735). Seutter's style was heavily influenced by Homann, with distinctive similarities appearing in his maps. He was joined in the business by his son, Albrecht (1722-1762), who continued the firm in partnership with Tobias Conrad Lotter (1717-1777) on his father's death.
subscribe to our newsletter