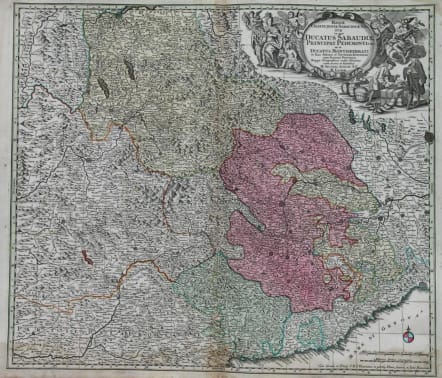 SAVOIE PIESDMONT REGIAE CELSITUDINIS SABAUDIAE STATUS
£350
Full title "Regiae Celsitudinis Sabaudicae, status in quo ducatus Sabaudiae Principat. Pedemontium ut et ducatus Montesferrati".. Striking example of Seutter's decorative map of the Savoy and Piedemont regions, centered on Torino. The map coverage extends from Grenoble, Geneva, Die and Romans, to Genoa and Milan. Highly detailed, with excellent graphical representation of the mountains and other topography. Cartouche includes 5 coats of arms and an ornate allegorical scene.Very good condition.
Cartographer : SEUTTER Family
Besides the Homanns, the other great German publishers of the eighteenth century were the Seutter family. Mattheus Seutter the elder (1678-1757) was apprenticed to Johann Baptist Homann in 1697 in Nuremberg, but left to settle in Augsburg where he established his own business publishing atlases, including the "Atlas Geographicus" (1725) and "Grosser Atlas" (circa 1735). Seutter's style was heavily influenced by Homann, with distinctive similarities appearing in his maps. He was joined in the business by his son, Albrecht (1722-1762), who continued the firm in partnership with Tobias Conrad Lotter (1717-1777) on his father's death.
subscribe to our newsletter