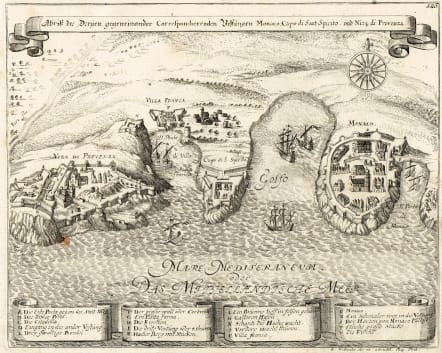 MONACO , CAPO DI SPITITO UND NIZA DI PROVENZA
£145
Full Title : Abriss der Dreijen Vestungen Monaco, Capo di Sant Spirito und Niza di Provenza
Reduced version of Merian's important map.
Shows the fortified towns of Monacp and Villefranche.
The old chateau at Nice.
Stippled sea, galleons and compass rose
Uncoloured as issued
Very good condition
Cartographer : BODENEHR Gabriel
BODENEHR, Gabriel
1673-1765
German engraver and mapmaker of Augsburg. Son of Johann Georg Bodenehr [1631-1704] & from a family dynasty of engravers and publishers.
His works include Atlas Curieux [1704] and Curioser Staats und Kriegs Theatrum [1715].
In 1717 the family took over the Augsburg publishing house of Stridbeck. Succeeded by his son Gabriel the younger.
subscribe to our newsletter