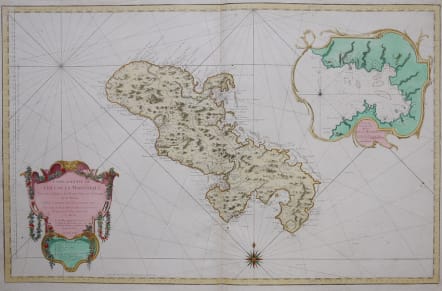 CARTE REDUITE DE L'ISLE DE LA MARTINIQUE
£495
Superb, large scale, chart of the island filled with incredible detail. It shows roads, topography, soundings, villages, windmills, and plantations. An large inset "Plan du Cul de Sac Royal de la Martinique" is surrounded by a rococo cartouche, balanced by the floral title cartouche in the opposite corner. Rhumb lines and a compass rose complete the composition. Its meticulous topographical and nautical detail makes this one of the major 18th century maps of Martinique.
Excellent hand colour.
Very good condition
Publication: Hydrographie Francoise Recueil Des Cartes Marines
Ref: Phillips (A) #590-79
Cartographer : Jacques-Nicolas BELLIN
Jacques-Nicolas Bellin (1703-1772) was one of the most important and prolific French cartographers of the mid-eighteenth century, in the service of the French Hydrographical Office. He was appointed the first Ingenieur Hydrographe de la Marine, and also Official Hydrographer to the French King.
Bellin was responsible for an enormous output of charts and maps. In a large folio format, he issued a volume of sea-charts of France, the Neptune Francois, and several sea-atlases of the World, including the Atlas Maritime and the Hydrographie Francaise. These large charts were amongst the best of the period and continued being reissued throughout the second half of the eighteenth century.
In smaller format, he issued the Petit Atlas Maritime (1764),which contained 580 detailed charts, as well as maps to illustrate l'Abbe Prevost's Histoire Generale des Voyages (1746-1757). Bellin also produced a substantial number of important separately issued maps, particularly reflecting continuing discoveries and political events in the Americas.
subscribe to our newsletter