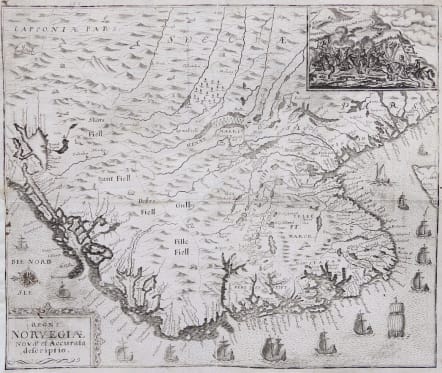 REGNI NORVEGIAE NOVA ET ACCURATA DESCRIPTIO
Sold
Rare map of Norway with inset battle scene.
This map, Regni Norvegiæ Nova et Accurata descriptio, was included in the Fall, 1716, issue of Relationis Historicæ Semestralis Autumnalis Continuatio. These booklets, published in conjunction with the spring and fall Frankfurt book fairs (Messen), are also referred to as the Messrelationen. Each issue's roughly 100+ pages summarized the major historical, political, and military news since the prior fair; they are regarded as forerunners of modern day news magazines.
Folds as issued and one small repair otherwise very good condition for this very rare map.
subscribe to our newsletter