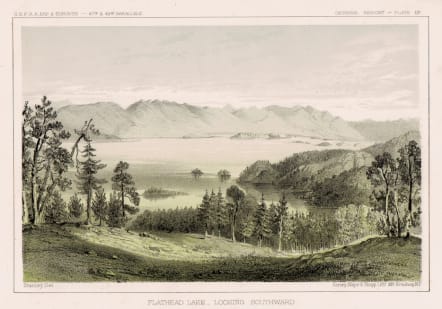 FLATHEAD LAKE LOOKING SOUTHWARD
£25
Attractive lithograph of Flathead Lake Montana. .From the U.S.P.R.R. EXP & SURVEYS CAL; United States Pacific Railroad Expedition and Survey.
Flathead Lake is a large natural lake in northwest Montana and is the largest natural freshwater lake by surface area that is west of the source of the Missouri River in the contiguous United States. The lake is a remnant of the ancient, massive glacial dammed lake, Lake Missoula of the era of the last interglacial.
A beautiful originally tinted lithograph. Artist Koppel and litho by Sinclair.
Excellent condition
subscribe to our newsletter